It's never been more important to support your local economy and local jobs while also meeting the needs of shoppers. One fantastic way of achieving both of these goals is by stocking a range of Scottish gins.
by Antony Begley
---
There are many lessons to be learned from the ongoing coronavirus situation and one clear learning is just how fragile our economy is and, in particular, how fragile small, remote economies can be. It seems likely that the we will all emerge from this episode changed as human beings, and hopefully for the better.
The need for shoppers and retailers to play a far more active and conscious role in supporting their local economy has been thrown into sharp focus over the last few weeks. This only serves to demonstrate once more the vital importance of local, regional and national sourcing, particularly from small producers who rely on a steady flow of sales simply to stay alive and continue producing the outstanding Scottish food and drink products that have rightly made Scotland famous.
Of course, Scotland is known globally as the home of whisky and, indeed, whisky remains the jewel in Scotland's drinks crown. But the category that has been making most waves in the last couple of years is gin. Scotland's gin boom has seen the juniper-based spirit become Scotland's second favourite tipple.
At last count there were around 186 distilleries across the country, all the way from tiny independents making hand-crafted delicacies up to global distilling giants keen to get involved in the hottest drinks category in town.
And somewhat astonishingly, Scotland produces around 70% of all UK gin sales! In fact, three of the world's top-selling gins – Gordon's, Hendrick's and Tanqueray – are produced in Scotland.
Perhaps less astonishingly, gin sales in the UK have hit an all-time high. In 2019 the total UK gin market, including domestic and export, was worth a whopping £3.2bn.
In other words, consumers love their gin – and there's no sign of that fading anytime soon.
With such a diverse array of producers creating ever more innovative and striking gins in Scotland, this offers local retailers the chance to really get hold of the gin category and perhaps even aim to be 'famous for gin' in their local area. Why not use gin as another way to become a destination store by stocking a good range of interesting, high quality gins? By buying Scottish gins you will be helping small, often rural economies across Scotland, you'll be minimising food miles and you'll be giving the great Scottish public what it so clearly wants.
And if all that sounds like something you might fancy getting on board with, we've sourced a few Scottish gins that you might to consider.
---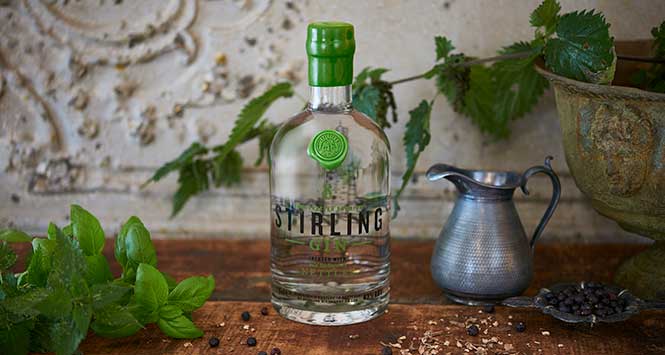 Stirling Gin is a family-orientated business that brings something unique to the world of gin. Originally made in a 2.4 litre still in the family kitchen, the gin is now produced in Stirling's first (legal) distillery. Six beautiful botanicals are poured into every bottle, the most unusual being Stirlingshire nettles.
---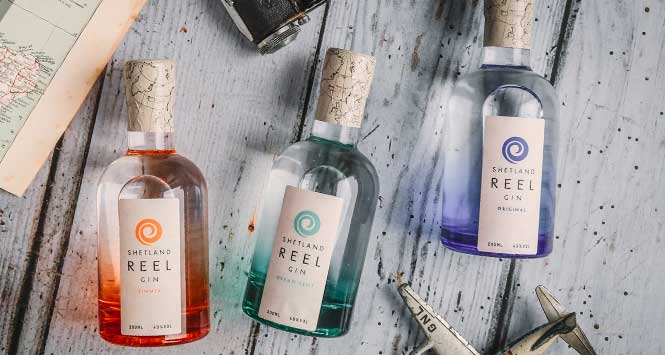 The Shetland Distillery Company produces award-winning gins (as well as a blended malt Scotch whisky) on the UK's northernmost island, Unst, Shetland. The gins use key local botanicals such as bladderwrack seaweed and applemint to give a unique Shetland twist which reflects its northerly location.
---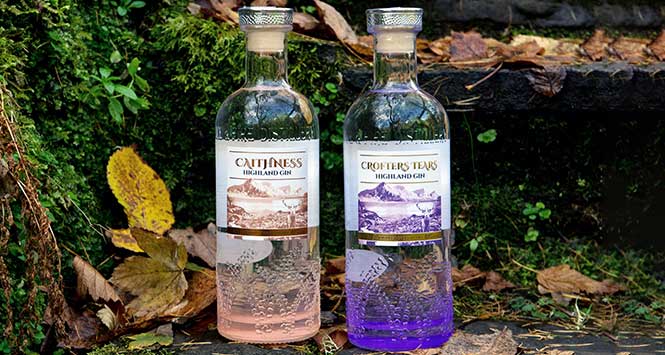 Ice & Fire Distillery was born of a family of Highland crofters who produce, distil and bottle artisan craft gins on their croft. Made from purple heather flowers in Crofters Tears and Salmonberries in Caithness Highland Gin, these are truly a taste of the Highlands.
---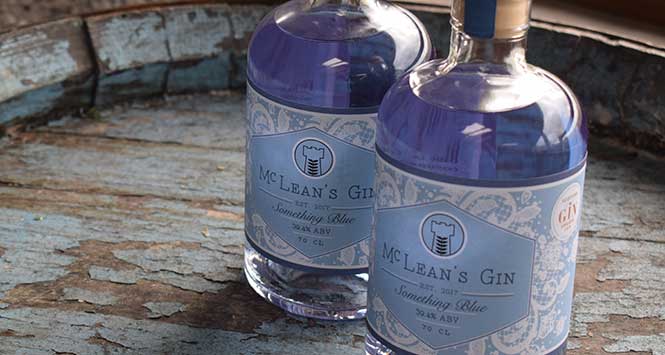 Colin and Jessica McLean Something Blue to commemorate their wedding in June of 2018. Touted as the 'World's First Wedding Gin', Something Blue pairs the makers' two favourite botanicals – tonka beans and buchu leaves – to create a gin truly like no other.
---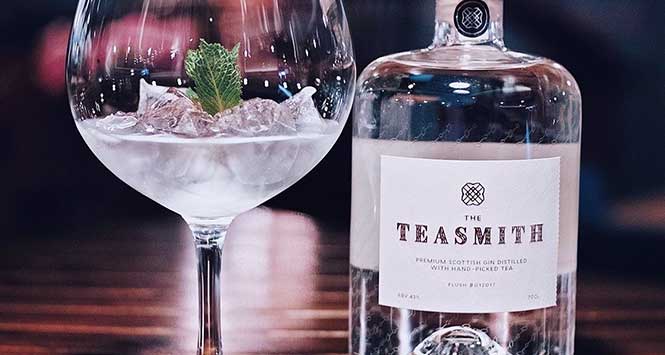 The Teasmith Spirit Company is dedicated to producing award-winning, exceptional Scottish gin distilled with handpicked tea leaves. The company sources the finest and rarest speciality tea and distils it with carefully selected botanicals that complement and match the unique flavours that the tea provides.
---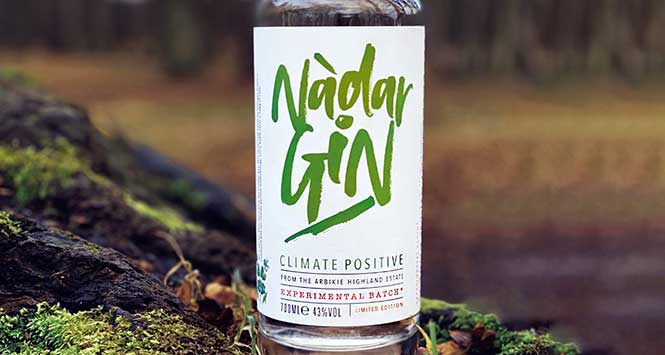 Arbikie Gin's revolutionary climate positive gin is called Nàdar – Gaelic for 'Nature'. Made in Arbroath, Nàdar Gin harnesses the power of nature and science to create this world first spirit. With a carbon footprint of -1.54 kg CO2e per 700ml bottle, Nàdar Gin is at the forefront of fighting climate change and biodiversity loss.
---
Multi-award-winning Gunshot Gin came from the hills and it's the same colour as bullets and gives you an inner glow, apparently! A full-strength sipping gin from Glamis, it's infused with cinnamon, cloves, mixed spices and honey. Gunshot is great on the rocks, in your hipflask or with ginger ale.
---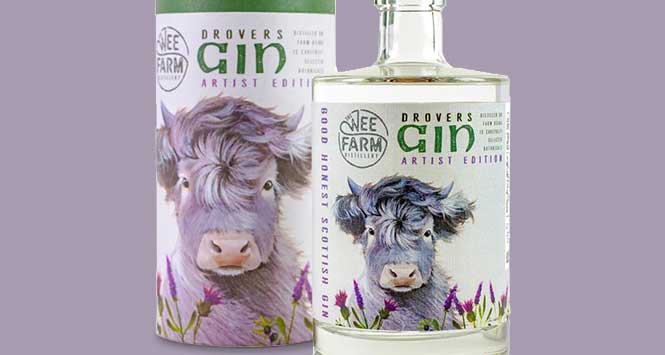 The Wee Farm Distillery in Climpy produces Drovers Gin on their artisan farm. Wild ingredients that would be found near drovers' trails – such as heather and thistles – give Drovers Gin an authentic Scottish taste. At 45% abv, Drovers is a smooth, crisp gin that can be enjoyed with the best Scotch beef.
---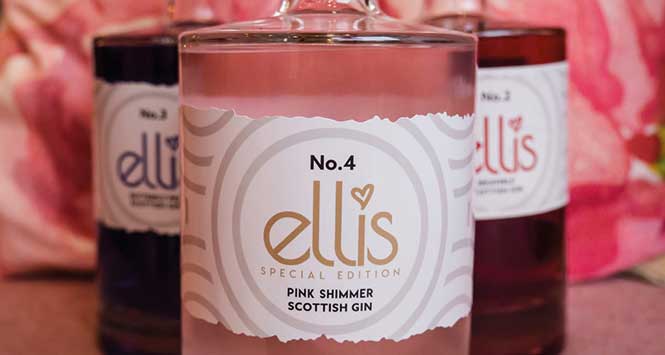 Ellis is a premium range of coloured subtly flavoured small batch Scottish gins distilled in Glasgow. Handcrafted with love, Ellis is a delight to all senses. The company aims to bring fun to gin with two gins that change colour and a pink gin which shimmers – whilst still remaining authentic full-strength gins.
---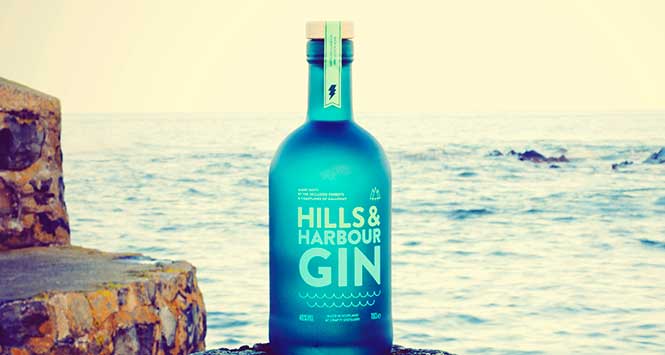 Galloway is the home of Crafty Distillery and, surrounded by forests and unspoilt coastlines, is the perfect larder for the distillery's ingredients. Noble fir needles and bladderwrack seaweed are distilled with their own spirit along with nine other botanicals to create the smooth and vibrant Hill & Harbour Gin.
---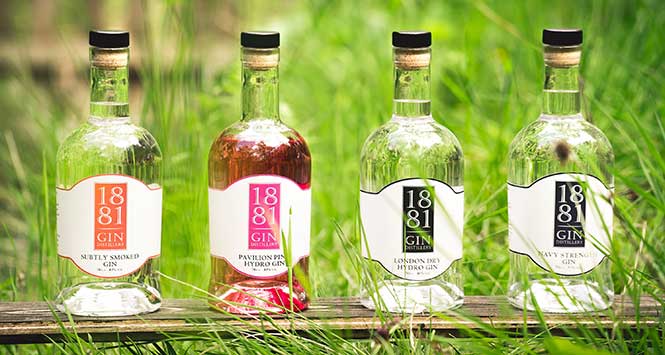 Made in the Scottish Borders at Peebles Hydro using water from their very own natural spring water supply in the hills behind, 1881 gins offer a range of products including London Dry, Pink, Navy and a Subtly Smoked.
---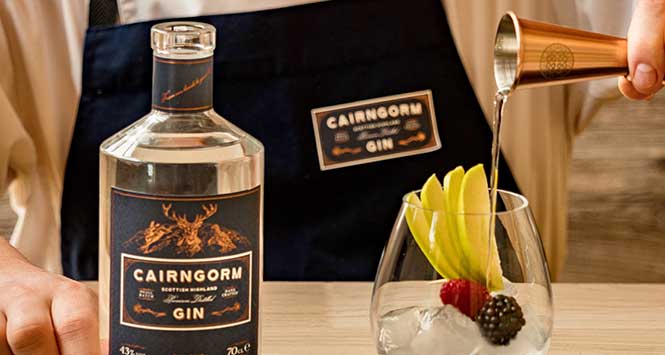 Experience the spirit of the Scottish Highlands in a bottle: small batch, hand-crafted premium distilled Cairngorm Gin. Distilled in one of Scotland's most dramatic landscapes by Jack Smith, Scotland's youngest distiller, in batches of no more than 70 bottles.
---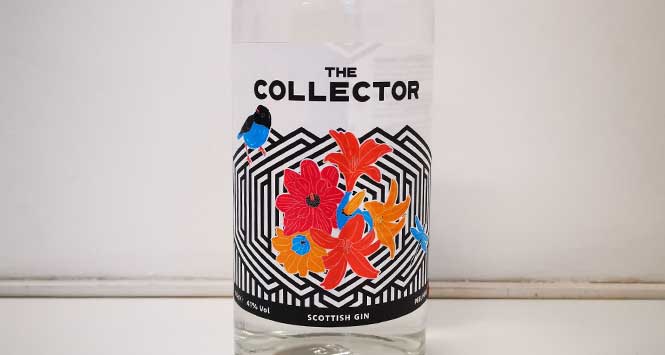 The Collector is Stewart Brewing's first gin and was inspired by plant hunter George Forrest, who over 28 years led seven expeditions to Yunnan, China, to discover and collect new plants. This gin pays homage to Forrest's legacy combining seven locally grown botanicals with two of Forrest's own discoveries.
---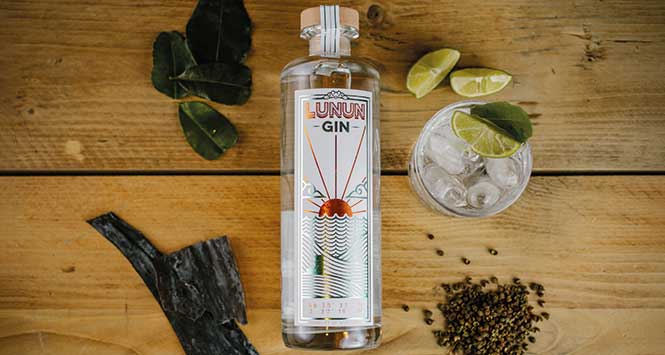 Launched by MasterChef finalist Dean Banks, Lunun Gin is a premium Scottish gin with an Asian twist. Influenced by Dean's travels and expertise in fusion cooking, Lunan is distilled in Arbroath and uses six botanicals including kaffir lime leaf, kombu kelp, Sichuan pepper, ginger, lemongrass and sea buckthorn.
---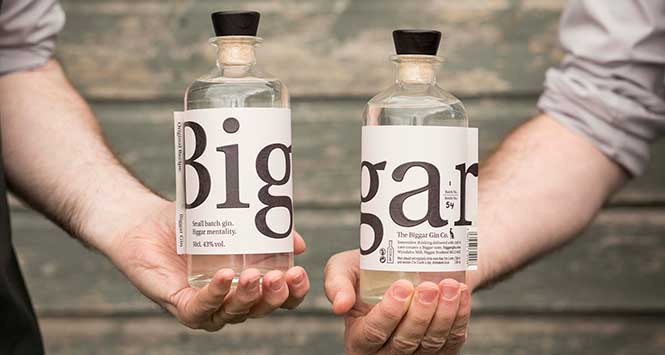 Biggar Gin is a family business based in rural South Lanarkshire. Their small batch gin has a 'Biggar Mentality', combining tradition and innovation. They produce an award-winning London Dry Gin and a Clyde Valley Plum Recipe as well as a new navy strength gin.
---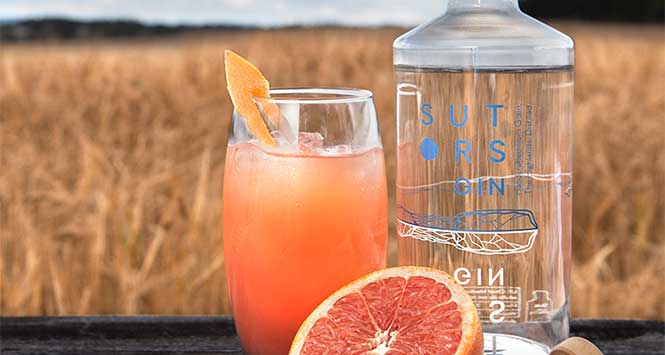 A wholly Scottish Gin produced by the Highlands' newest grain to glass distillery, Sutors Gin is crafted from hand malted local barley and wheat. Deliciously smooth, the gin is distilled through five foraged botanicals including juniper. Sutors is clearly the Highlands. Distilled.
---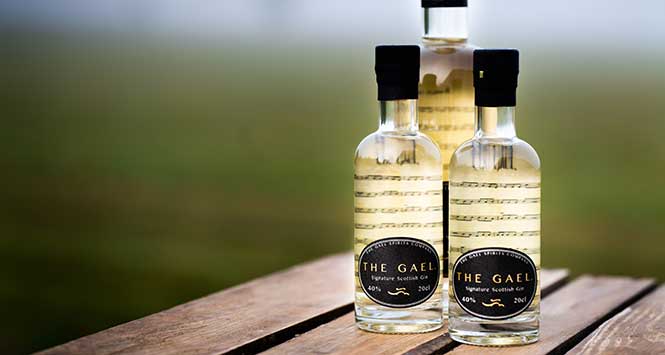 Inspired by the iconic Scottish fiddle tune, The Gael is five times distilled. Created from malted barley for a pure taste and premium quality using traditional botanicals and a hint of Scottish heather, its smooth creaminess from the malted barley makes it a perfect sipping gin over ice.
---
Produced in the world's first 100% community-owned, fully sustainable distillery, GoodWill Gin is a Highland premium craft gin made from nine botanicals, including exotic fruits and locally picked Hawthorn berries. The carefully measured juniper content yields a smooth taste that remains full-bodied.
---
Luxuriously smooth, Ginsignia is a navy strength gin (57% abv) distilled using 14 selected botanicals. Initial floral notes from the rose and hibiscus petals give way to sweet citrus from the lemon verbena. This leads to soft warming notes of angelica and tonka bean, complemented with a vibrant dry finish of juniper.
---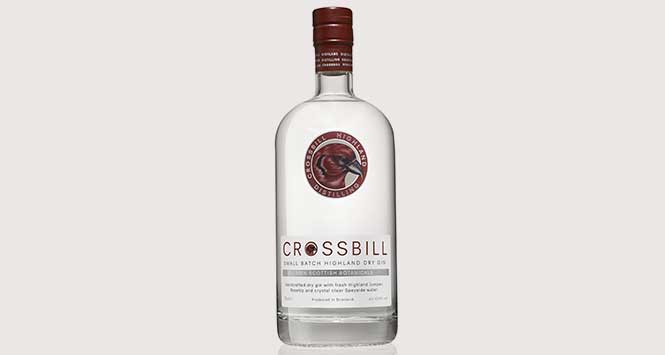 A refined yet bold multi-award-winning gin, bursting with the freshness of the Scottish Highlands, Crossbill contains only two botanicals: wild fresh Scottish juniper and rosehip, harvested by hand then slowly macerated in Glasgow before being distilled. Crossbill is a true celebration of dry gin tradition.
---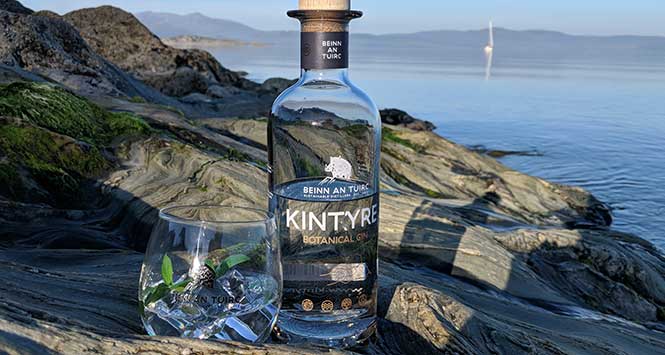 Voted Scotland's second favourite gin for the second year running, Kintyre Gin has provenance and sustainability at its heart. Produced by Beinn an Tuirc Distillers using renewable energy, Kintyre Gin is a beautifully blended spirit reflecting its unique coastal, pasture and woodland location in the heart of Kintyre.
---
This article was first published in Scottish Local Retailer magazine.